Desert flowers and plants have developed three main adaptive strategies: succulence, drought tolerance, and drought avoidance. Each of these Desert flowers and plants are a different but effective suite of adaptations for prospering under conditions that would kill plants from other regions.
Deserts are natural laboratories in which to study the interactions of wind and sometimes water on the arid surfaces of planets. They contain valuable mineral deposits that were formed in the arid environment. or that were exposed by erosion. Because deserts are dry, they are ideal places for human artifacts and fossils to be preserved. Deserts are also fragile environments. The misuse of these lands is a serious and growing problem in parts of our world.
Desert Sand Verbena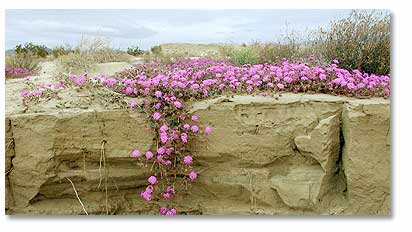 A soft-haired, sticky plant with bright pink, trumpet-shaped flowers in heads that bloom on stalks growing from leaf axils. Desert sand-verbena appears as a mat following winter rains, growing 20 in. across and 3-6 in high. Short, sticky hairs cover both the inch-long, oval, fleshy leaves and the many-branched stems. Erect, 1-3 in. stems bear conspicuous clusters of fragrant, lavender-pink flowers.
The Desert Cactus
Cactus is an American plant family not native to Europe, Africa or Australia. Very little is known about early cactus plants because only two cactus fossils have ever been found. The oldest, found in Utah, dates to 50 million years ago and was similar to today's prickly pear.
Cactus plants probably grew in a tropical environment until about 65 million years ago when, in much of California, the climate changed from year-round rainfall to a pattern of dry summers and wet winters. Later, when the desert began to form as the Sierra Nevada and Peninsular Ranges rose and blocked rainfall to the eastern valleys, the cactus adapted to the dry, desert conditions.
California Poppy
California poppies are easy to grow. Sow the seeds shallowly (1/16-inch deep) in fall or early spring in mild, wet winter climates, including most of California west of the Sierra-Nevada. This is best desert flowers and plants in California west of the Sierra-Nevada. Seeds will germinate after the first fall rains or when the soil warms in the spring. In hot summer areas, the poppies will bloom in spring and early summer, and then the tops will die back and the plants become dormant during the heat of the summer. The poppy survives in the form of a fleshy taproot. In cooler coastal climates, California poppies may bloom most of the summer. Sandy, well-drained soil in full sun is best. No supplemental watering is required unless the growing season is exceptionally dry.
Prickly Pear Cactus
Prickly pears are a subgroup of Opuntia, identified by their wide, flat, branching pads, and are often called nopal cactus or paddle cactus. Most varieties have a combination of detachable spines and tufts of barbed bristles (glochids) that can cause significant allergic skin reactions. There are also spineless varieties like O. ellisiana and others.
The pads, flowers and fruit of most varieties are edible after careful cleaning. Most prickly pear plants are found in warm, dry climates like the Southwest, although there are some cold-hardy varieties such as the Eastern prickly pear (O. humifusa). As the plants prepare for winter, pads may begin to look shriveled and wilted, but they will green up quickly in spring.
Desert Lily
The long, narrow, wavy-edged leaves of hesperocallis undulata grow only around the base of the thick, rigid stem, which can reach a height of 6 feet and bears many large, funnel-shaped flowers; each has 6 petals which are mostly pure white but have a greenish-yellow band underneath. Flowers point outwards in all directions. At the center of each flower is a cluster of long stamens, with yellow anthers and white filaments.
The plant inhabits the hottest, driest regions of the Southwest, flowering after the infrequent rainfall. The bulbs are edible, and have a taste similar to garlic. Hesperocallis is a monotypic genus, and the sole species has similarities both to the lily and agave families.
Cholla Cactus
Cholla cactus represent more than 20 species of the Opuntia genus (Family Cactacea) in the North American deserts. Cholla is a term applied to various shrubby cacti of this genus with cylindrical stems composed of segmented joints. These stems are actually modified branches that serve several functions — water storage, photosynthesis and flower production. there are some other desert flowers and plants check it out next.
Saguaro Cactus
The saguaro cactus is one of the defining plants of the Sonoran Desert. These plants are large, tree-like columnar cacti that develop branches (or arms) as they age, although some never grow arms. These arms generally bend upward and can number over 25. Saguaros are covered with protective spines, white flowers in the late spring, and red fruit in summer. You find this cactus in southern Arizona and western Sonora, Mexico. At the northern portion of their range they are more plentiful on the warmer south facing slopes. A few stray plants can also be found in southeast California.
Joshua Tree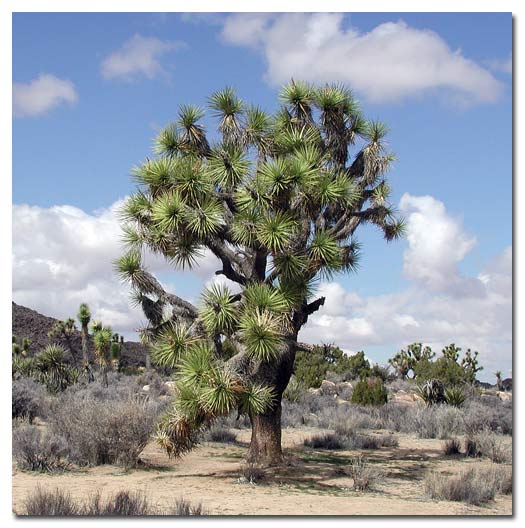 Joshua trees (and most other yuccas) rely on the female pronuba Moth (Tegeticula) for pollination. No other animal visiting the blooms transfers the pollen from one flower to another. In fact, the female yucca moth has evolved special organs to collect and distribute the pollen onto the surface of the flower. She lays her eggs in the flowers' ovaries, and when the larvae hatch, they feed on the yucca seeds.
Mesquite Tree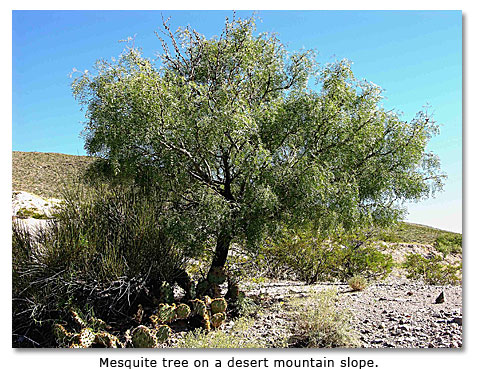 Mesquite trees came about in the Pleistocene era along with such giant herbivores as mammoths, mastodons, and ground sloths. These animals ate the pods of the mesquite tree and dispersed them. After their extermination, water and weather were left to scarify the seeds, disperse, and germinate them, but survive they did.
The mesquite is now one of the most common trees of the southwestern United States and into parts of Mexico. A member of the legume family including peanuts, alfalfa, clover and beans, mesquite is perfectly suited for the dry environ it thrives in.
Brittlebush
It is the most common plant of the Mojave and Sonoron deserts that grow as a low, roundish mound 2 to 5 feet high. The flowers on brittlebush grow from March to June and are bright yellow in color. Leaves are broader at the base than at the tip and are about 1-4 inches long.
This desert shrub produces little yellow flowers, and as its name suggests, is known for the brittleness of its stems. They have historically been used as a medicine, glue, and a number of different purposes.
Desert Ironwood Plant
The tree known in the U.S./Mexico borderlands as desert ironwood or palo fierro (Olneya tesota) is one of many woody legumes found in washes and hillside drainages in the Sonoran Desert. It ranks among the most ecologically and economically important plant species in the region. Ironwood functions as a "nurse plant" and a "habitat-modifying keystone species" of benefit to many other species of flora and fauna. While Ironwood is not endangered or threatened, its populations dwindle annually over tens of thousands of square kilometers.
While all three genera have narrowly elliptical leaves and less than 12 ovules per pod, Olneya is distinguished by its paired leaves, flower clusters on short shoots that extend from the middle of the stem (instead of the end of a branch), and pods more rounded than the pods of peteria and brushpea.
Turpentine Broom
Thamnosma montana, the turpentine broom, or Mojave desert-rue, is a shrub in the citrus family Rutaceae. It is native to the deserts of the southwestern United States and northern Mexico. Except immediately after heavy rains, its straight stems usually lack leaves, giving it a broom-like appearance. The Latin specific epithet montana refers to mountains or coming from mountains.
Mojave-aster
The flowering plant is native to the Mojave Desert, Sonoran Desert, and Great Basin Desert ecoregions of the southwestern United States, California, and northwestern Mexico.
The inflorescence is a solitary flower head borne on a long peduncle. The head has a base with long, narrow phyllaries which may be over 2 centimeters long. The head contains up to 60 or more lavender, pale blue, or white ray florets which may be over 3 centimeters long. The bloom period is March through June. The fruit is an achene which may be over a centimeter long, including its pappus of bristles.
Elephant Tree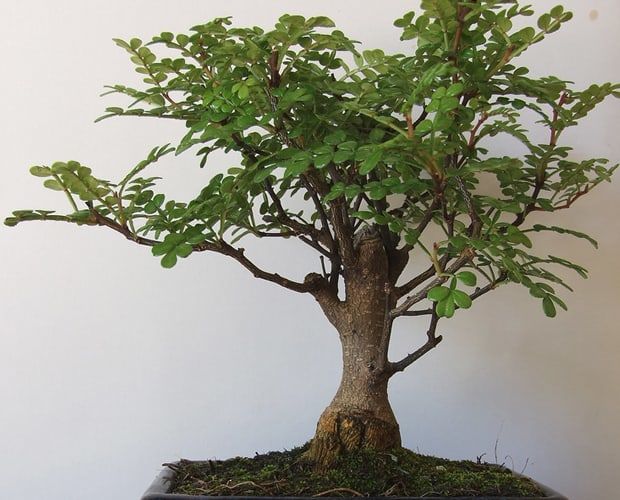 Elephant Trees are so defined by their ability to store water in their trunks. They can be seen in the deserts of Southwest United States and in parts of Africa, and are especially suited to dry climates.
The elephant tree is small in size and its branches are quite small in comparison to their trunk. This plant has trees throughout the year except in drought and extremely cold weather. The flowers are born as yellow in color which then slowly blossom into beautiful star-shaped white or cream-colored flowers.
Also Read: Self Help Groups (SHGs) in India
Jumping Cholla
The Jumping Cholla is somewhere between a tree and a cactus, but rather than leaves it has spines! These guys can be sneaky – their spines carry tons of little spikes that can act like Velcro and attach to everything. Jumping chollas grow on the valley floors of the Sonoran Uplands, the Mohave Desert, California, and Sonora, Mexico.
It can be 3 to 7 feet (1 to 2 m) tall and has a single trunk with short branches at the top. They bloom from February to May and the greenish flowers grow at the end of the stems.